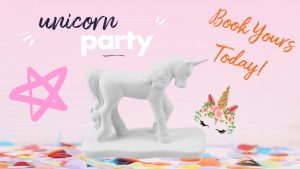 The Unicorn Party Package – $130
Covers studio fee's for 8-20 people (Does not include pottery)
Includes Unicorn themed plates, cups, napkins, and a Unicorn Headband for every painter!
Reserves the party room for 2 hours
A dedicated staff member to run your party start to finish
Includes a keepsake plate for the birthday child
A FREE VIP pass for the birthday child
Details:
You are welcome to bring decorations, pizza, cake, treats, etc
Ceramic Unicorns are purchased the day of the party, $25/Unicorn
Pieces will be fired and ready for pick up 12 days after party
Parties require a minimum of 8 people. If 8 people do no attend we will require 8 items are painted
A 15% gratuity will be added to your total for your party host
Discounts, coupons or specials do no apply to parties
We can not accommodate more than 20 people in our party room.
If you would like special pieces ordered we can do that…but give us 2 weeks notice!
Terms and Conditions:
$100 is non refundable unless party is canceled at least 7 days prior to event
Adults staying for the party must have a seat. There is no room for adults to stand
Party Host must pick up entire party and get the finished pieces to their guests